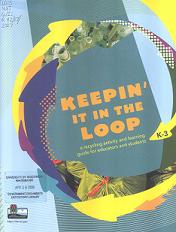 "Go green!" is the motto for today's society. In keeping with the trend to keep our environment clean and healthy, parents and educators can teach kids at a young age how to recycle. Keepin' It in the Loop: a Recycling Activity and Learning Guide For Educators and Students (call number NAT 6/2:R 42/17/2007 and NAT 6/2:R 42/17/2007) recently won the prestigious Wisconsin Distinguished Documents award given out each year to a Wisconsin government document that "contributes significantly to the expansion of knowledge; provides inspiration and pleasure to an identifiable readership; contributes to public understanding of government agencies; and is distinguished by the clarity of its presentation, its typography and design, and its overall appeal."
The Department of Natural Resources made these documents to teach young kids the importance of recycling and created fun and clever activities to make them think about the impact they have on their environment.
On June 6, 2008, Government Information Day in Madison, those who compiled these documents proudly received their awards from the Government Information Roundtable section of the Wisconsin Library Association for designing and creating these documents. Check out these winners located in the Wisconsin Documents collection, as well as the honorable mentioned documents listed below:
Governor's Task Force on Campus Safety (GO SAF 2.1: )
Wisconsin Great Lakes Chronicle (COA 1/2:G 766/)
Turning Points (online)
For more information on the yearly winner's of the Wisconsin Distinguished Documents Award, visit the Wisconsin Library Association Government Information Roundtable website.

The University Library is a federal depository with many federal, state, local, and international documents on a variety of current and relevant issues available to you in print, microfiche, CD-ROM, and electronically. Come check out your government at the University Library!