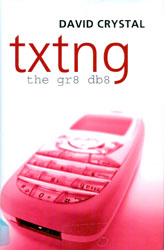 Txtng:
The Gr8 Db8
By David Crystal
TK5105.73 .C79 2008
New Book Island, 2nd floor
It's those darn kids – you know, the ones with their electronic devices and unlimited text plans and super-fast fingers. They reward skill for speed and accuracy with a $50,000 prize purse at the US National Texting Championship, conveniently sponsored by LG. Yet, with the emphasis on speed, abbreviations and acronyms rule and can leave people not in the know completely lost. Does this shortening of language cause any other effects, such as hindering literacy or promoting laziness? This week's featured title takes on the great SMS debate.
Crystal, honorary professor at the University of Wales, Bangor, offers his knowledge and expertise in the area of linguistics to tackle the texting phenomenon. He examines the origins of this 'weird' form of communications and how/why it's used. Although most of the media attention is devoted to adolescents' addictive habits, the author also investigates who texts (hint – it's not just the kids). Furthermore, Crystal addresses the criticisms of (mainly) adults that predict that texting has contributed to decreased literacy. Included in this book are two handy appendices with definitions to common abbreviations, not only in English, but also in eleven other languages.