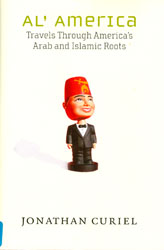 Al' America:
Travels Through America's Arab and Islamic Roots
By Jonathan Curiel
E169.1 .C853 2008
New Book Island, 2nd floor
They don't call the America the "melting pot" for nothing. As the land of opportunity, we have traditionally been a place of refuge from those struggling in their homeland, whether that may have been. Therefore, in wake of all of the turmoil with the "outsiders" and closing the borders, this week's featured title reminds us about all of the different heritagess that have been woven into this country's fabric.
Curiel, writer for the San Francisco Chronicle recognized for his reporting of Arab and Muslim culture, takes a trip through the United States and examines the influences that the Arabs have had on our society. Some are to be expected – for instance, words in English with Arabic roots (did you know that giraffe originated from Arabic? I didn't!). Others are less obvious and/or well-known, such as the Muslim roots in American blues music. The author writes in an easy-going tone, making this a quick and enjoyable read for a sometimes tense and sensitive topic.