John Dillinger was killed as he left Chicago's Biograph Theatre after attending the gangster film Manhattan Melodrama on this date (July 22nd) in 1934.
You may have seen the currently-playing film Public Enemies starring Johnny Depp (I did!), which was partially filmed in Wisconsin. It's based on the book Public enemies: America's greatest crime wave and the birth of the FBI, 1933–34. The book is available to UWW students and staff from other UW campus libraries by using the free Universal Borrowing service (requested materials arrive in 2-4 weekdays). Other titles, such as Dillinger: The untold story, are also available.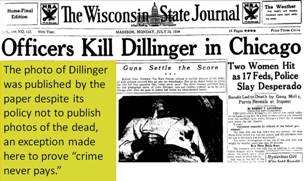 More information is available from Library article databases and reference materials, such as full-text newspaper databases including NewspaperARCHIVE or ProQuest Historical Newspapers – The New York Times.
Other article databases provide access to articles such as Public enemies keystone cops (American History, Aug. 2009, vol. 44:no. 3, pp. 34-39).
You can also read a 20-page entry (with several photos) on Dillinger in the 2nd-floor Reference Collection title Bloodletters and badmen (Ref HV 6785 .N37).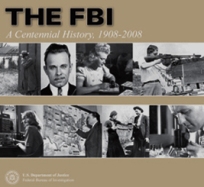 And check out The FBI: A Centennial History, 1908-2008 which details Dillinger and other gangsters as well as other intriguing cases encountered by the FBI in its history. It's in our 2nd-floor Federal Government Documents collection (call number J 1.14/2:C 33/3) and available online at http://fbi.gov/book.htm. Dillinger is on the cover. Can you spot him?
Please ask a librarian for assistance in finding materials.

The University Library is a federal depository with many federal, state, local, and international documents on a variety of current and relevant issues available to you in print, microfiche, CD-ROM, and electronically. Come check out your government at the University Library!