Yet another listing of recommended books, as if I need a longer list! The July 13 issue of Newsweek has a list of 50 books (alternatively link to the Newsweek site) that supposedly "open a window on the times we live in, whether they deal directly with the issues of today or simply help us see ourselves in new and surprising ways." Since it's Friday I thought you'd want to plan your weekend reading. And if these 50 books don't keep you busy, the magazine's web site lists Newsweek's Top 100 Books: The Meta List.
Most of the books should be available from Andersen Library, and also from other UW campus libraries (through the free Universal Borrowing service, which is down for an upgrade July 27-August 17, so plan ahead) and some public libraries.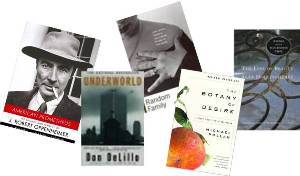 Pictured at left are covers of American prometheus, Underworld, Random family, The botany of desire, and The line of beauty (titles on the list of 50 books to read now).