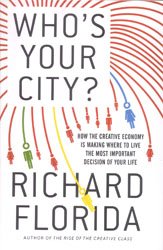 Who's Your City:
How the Creative Economy Is Making Where to Live the Most Important Decision of Your Life
by Richard Florida
GF21 .F56 2008
New Book Island, 2nd floor
Leave it to a guy with the last name Florida to write a book about where to live. All jokes aside, Dr. Florida, Professor of Business & Creativity at the University of Toronto, examines how deciding where to live tops the list of most critical choices in one's life. As the author contends, globalization has opened up the world, but where you live directly affects every other aspect of your life. He introduces the concept of "mega-regions," which "range in size from 5 to more than 100 million people and produce hundreds of billions—sometimes trillions—in economic output." This well-researched book contains a wealth of information and top places to call home for every stage of your life. And the book's companion website offers a brief snapshot of Florida's research if you don't feel like reading the entire book.