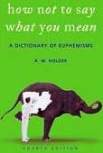 Have you ever struggled to say something and wanted to put it nicely? Or, have you ever wondered about the euphemisms you've heard?
Well, R.W. Holder's How not to say what you mean : a dictionary of euphemisms (2nd-floor Reference Collection, PE1449 .H548 2007) might be the book for you!
You can look up a word or phrase and get its meaning, or you can look up a subject area (like death or religion).
For example, you can learn that pick (as in to steal) is noted in the OED (Oxford English Dictionary) as being used in 1300, and in continuous usage since. According the Holder book that "makes it one of the oldest euphemisms in the language."