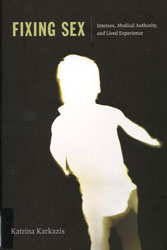 Fixing Sex:
Intersex, Medical Authority and Lived Experience
By Katrina Karkazis
JK1764 .H56 2009
New Book Island, 2nd floor
Raise your hand if you're heard of cystic fibrosis. That's probably most, if not all, of you. Now, raise your hand if you're heard of intersex (bonus points if you're heard of disorders of sex development). I'm going to go out on a limb and say that a significantly less number of you know about the latter. But can you guess which is more common? This week's featured book explains much more about this sensitive, yet virtually unknown, topic.
Karkazis, a Senior Research Scholar at Stanford University, takes a look at intersexuality and the current debate regarding its diagnosis and treatment, as well as the societal issue of gender. The author provides a history of how the medical condition(s) have been treated in the past, when it was referred to as hermaphroditism, and the controversy that has surrounded those procedures. Karkazis delves deeper than just the medical dispute and gives it a human face with interviews from intersexed individuals and their parents, as well as physicians. The writer does an excellent job making an accessible and thoughtful volume on this complex and contested issue.
As the King of Pop would say, "It doesn't matter if you're black or white."