According to the Vietnam War Almanac (Reference Collection DS557.7 .S94 1985), the Vietnam War ended on April 30, 1975. On May 1st, "Communist troops of North Vietnam … poured into Saigon today as a century of Western influence came to an end." [from The Vietnam War, v.2, p.770 (Reference Collection DS 557.4 .V57 2001)]
As this anniversary approaches, I want to call your attention to the Interactive Vietnam Veterans Memorial, provided by the National Archives and Records Administration and Footnote.com. You can search for names on the wall and leave messages or images. Digitized war photos from the Archives are here also.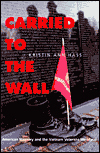 More information is at the University Library. Browse the Reference Collection for the titles mentioned above (and titles near them). Do a Subject Keyword search in the Library Catalog for "vietnam war" for a huge list of related topics to choose. There's even a book about the memorial itself: Carried to the wall: American memory and the Vietnam Veterans Memorial (3rd-floor Main Collection DS559.83.W18 H33 1998).
There are of course also numerous articles in magazines, journals and newspapers…even articles that appeared during the war (search the New York Times Historical database). Ask a reference librarian for assistance if needed.

The University Library is a federal depository with many federal, state, local, and international documents on a variety of current and relevant issues available to you in print, microfiche, CD-ROM, and electronically. Come check out your government at the University Library!