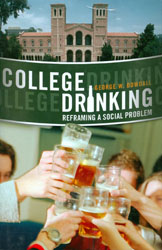 College Drinking:
Reframing a Social Problem
By George Dowdall
HV5135 .D69 2009
New Book Island, 2nd floor
On days when the thermometer reaches into the nineties and you began to sweat the second you step outside, nothing cools you down like an ice-cold beverage. For some, that beverage may contain alcohol. Enjoying a beer isn't necessarily a problem – it's when that one beer turns into six and you've drank the night away. This week's featured title tackles drinking, specifically with college students and the side effects that arise from use and abuse.
Dowdall, sociology professor at Saint Joseph's University, goes after a serious issue that faces many, if not all, college campuses around the country: binge drinking. The author examines the progression of drinking in the college context over the past few decades, in which it has only 'modestly' increased. He then presents the reasons for which college students drink, from peer pressure and social acceptance to rites of passage. Dowdall also looks at the effects of drinking – the health risks associated with high-risk drinking, as well as alcohol-related criminal activity. The author doesn't just lie out the facts – he also provides solutions to correcting the problem. If you're writing a research paper about the drinking habits of college students, you'll definitely want to check this one out.