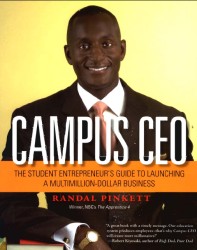 Campus CEO:
The Student Entrepreneur's Guide to Launching a Multimillion-Dollar Business
by Randal Pinkett
HD62.5 .P556 2007
New Book Island, 2nd floor
This week's featured book should appeal to anyone that wants to make money, and lots of it, by starting their own business. Randal Pinkett, winner of Season 4 of The Apprentice, knows a thing or two about business. To say that he's well-educated is an understatement, as he holds five academic degrees from prestigious institutions such as MIT and Oxford. He has taken that education and ran – founding multiple successful business ventures, even while he was still in school. Campus CEO focuses on sharing his vast knowledge and experience, all the while inspiring you to realize your potential as a profitable business owner. The book isn't geared for just business majors – it's for people with great ideas and the drive to see them through to fruition.