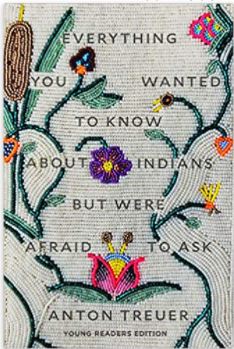 What general terms are most appropriate for talking about North America's first people? What terms are not appropriate? Were Natives more violent than Whites? Why do Indians have long hair? Can a non-Native person get an Indian name? I'm not racist, but it all happened in the past. Why can't Indians just move on?
These questions and more are all fair game in the Young Reader's Edition of Treuer's work. The table of contents is the list of questions one might be afraid to ask, grouped by topic, from Terminology; History; Religion, Culture, & Identity; to Powwows; Tribal Languages; and Politics, and more. If you've never been drawn to ebook versions, this is an excellent first foray. Each chapter title is a question that links to an answer, sometimes a brief paragraph, and sometimes a few more pages when deeper explanation is required. Rather than making a cover-to-cover read necessary, feel free to jump to the responses for those questions that have been in the back of your mind.
As an audiobook, this works equally well. Few chapters are more than a four- to five-minute listen, making it easy to stop and start, without worry of losing train of thought. For assistance with either ebook or audiobook, see our LibGuide with instructions for getting started with our Overdrive or Libby mobile app, or visit the Reference Desk in person or by phone (262-472-1032). We'd love to help!
Everything You Wanted to Know About Indians But Were Afraid to Ask: Young Readers Edition by Anton Treuer
Overdrive Ebook
Overdrive Streaming Audiobook
Don't forget to check out the Educator Resources for this title on the Badgerlink resource, TeachingBooks.net. Learn how to pronounce Treuer's name, listen to an interview and audio excerpt of the book, find lesson materials, and identify text complexity. Enjoy the Badgerlink.net video book trailer!