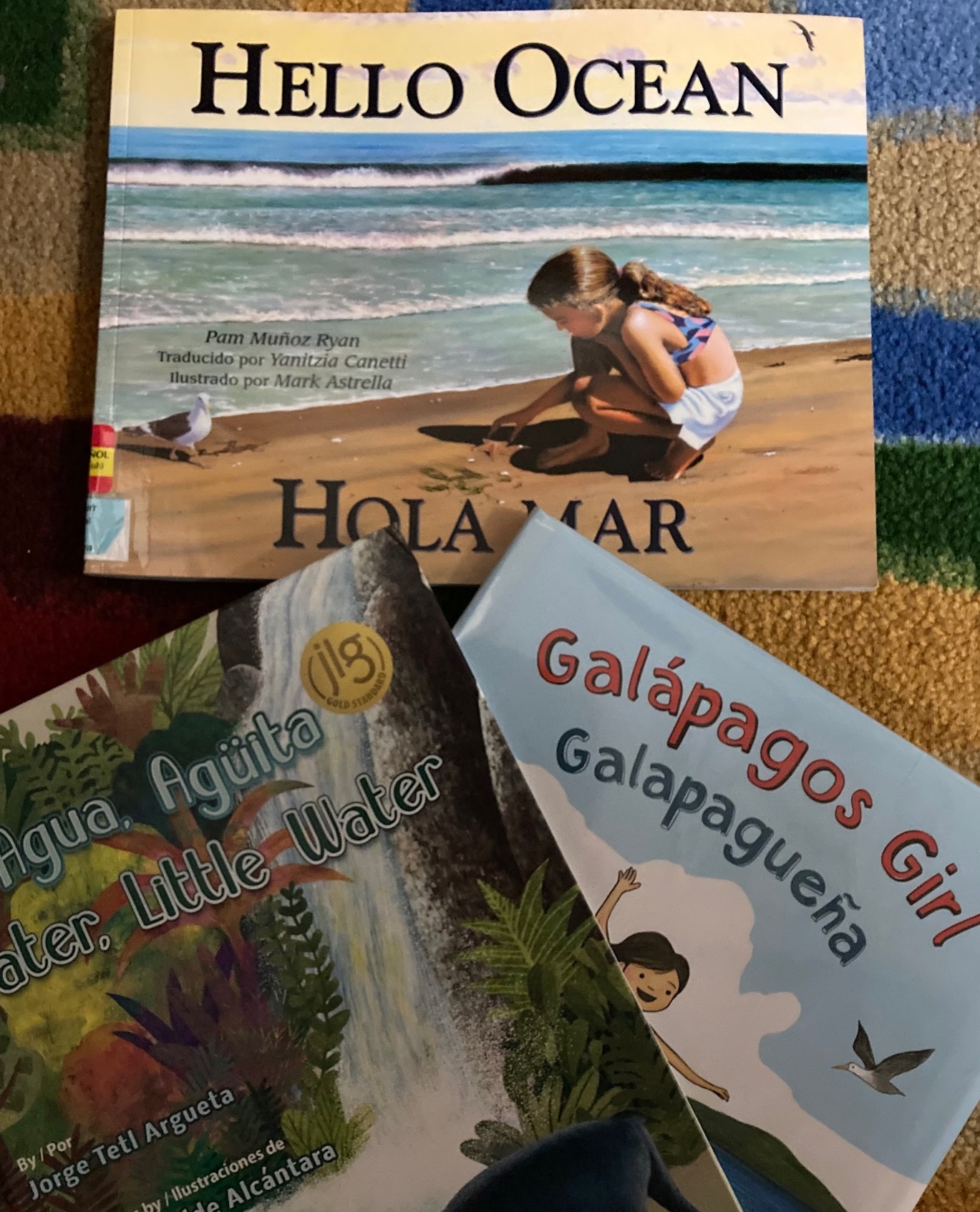 The New Arrivals Island has been inundated by a tidal wave of bilingual children's books about agua!
Hello Ocean / Hola Mar follows a young girl as her every sense is awash in what the ocean and beach have to offer touch, smell, sight – and a simple sense of adventure. Once again, author Pam Muñoz Ryan and translator Yanitzia Canetti collaborate on composing rich rhyming text in both English and Spanish:
I touch the ocean, and surf gives chase, then wraps me in a wet embrace.
Yo toco el mar, y el mar me anlaza, con sus húmedas olas, me envuelve y abraza.
From deep in the earth, to ocean, to morning dew, Agüita / Water, Little Water follows the life cycle of water from the perspective of one gotita – one little drop. Through Argueta's poetry in Spanish, English and Nahuat, the language of his Pipil-Nahua ancestors, we see how Agüita becomes a river, a lake, and ocean.
De gotita en gotita
subo al cielo /
Drop by drop
I climb to the sky.
In Galápagos Girl / Galapagueña we see again how just one, seemingly so small, is part of this interconnected web of life. This the is the true tale of a little girl, Valentina Cruz. She lived her childhood on her family farm on Floreana, one of the Galapagos Islands, where she bopped up and down with lava lizards, stamped her feet with blue-footed boobies, and twirled pirouettes with sea lions. When she leaves the island to attend school, she promises the creatures, "I will not forget you… And I will keep you safe / No los olvidaré – y ayudaré a protegerlos." We learn in the Author's Notes that Cruz became a biologist, and returns to the Islands where she now works on ecological restoration, research, and tourism.
Hello Ocean = Hola Mar
Pam Muñoz Ryan; traducido por Yanitzia Canetti; ilustrado por Mark Astrella.
New Arrivals, 2nd Floor
New Arrivals Island, 2nd Floor E Rya
Agua, Agüita = Water, Little Water
por Jorge Tetl Argueta; ilustraciones de Felipe Ugalde Alcántara; traducción de Gabriela Baeza
New Arrivals Island, 2nd Floor E Arg
Galápagos Girl = Galapagueña
by Marsha Diane Arnold ; illustrated by Angela Dominguez ; translated by Adriana Dominguez
New Arrivals, 2nd Floor
New Arrivals Island, 2nd Floor E Arn
For teaching resources, more about the authors, and more about the books, don't forget to explore the Badgerlink.net Teaching Books resources: