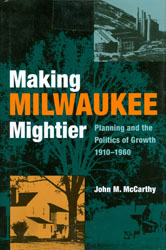 Making Milwaukee Mightier:
Planning and the Politics of Growth, 1910-1960
By John McCarthy
HT177 .M48 M33 2009
New Book Island, 2nd floor
As a person that is from the "wrong" side of the border, I can't say that I know a whole about the city of Milwaukee (you mean there's more there than just Summerfest?). So when I saw this title on the shelf, I was intrigued learn more. When I showed the book to my colleague (and Milwaukee native), her eyes lit up and she thought it was perfect to feature on New Stuff Tuesday.
McCarthy, a history professor from Robert Morris University, investigates the growth of the city of Milwaukee in the first half of the twentieth century. While the rest of the Midwest's urban centers were stagnating, Milwaukee's population and size continued to expand. The author details the influential players, such as Charles Whitnall, city planner, and Frank Zeidler, the last Socialist mayor in modern US history, as well as the turf wars with the surrounding suburban neighbors. The book provides an excellent starting point for learning more about Milwaukee, as it is extensively researched and gives many opportunities for further exploration.