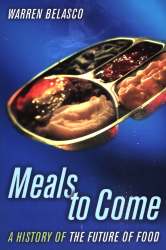 Meals to Come:
A History of the Future of Food
by Warren Belasco
TX353 .B455 2006
New Book Island, 2nd floor
As the world population continues to climb towards seven billion people, one has to wonder, "Will we have enough food to feed everyone?" That's just what Belasco, professor at the University of Maryland-Baltimore County, intends to conquer. He begins the book with the chapter 'The Stakes in Our Steaks' and continues with the history surrounding the issue of sustaining the world's population. He then provides three outlooks on the future of eating from different viewpoints. With an enjoyable and informative style of writing, you're sure to learn a thing or two about the future of meals. Just don't read it on an empty stomach.