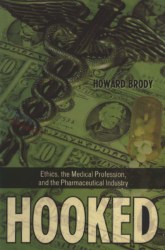 Hooked:
Ethics, the Medical Profession, and the Pharmaceutical Industry
by Howard Brody
R724 .B76 2007
New Book Island, 2nd floor
Have you ever wondered why doctors prescribe some medications over another, even if they claim to have the same effect? This week's featured book takes a look at the medical profession and its interactions with the pharmaceutical industry. The book's introduction uses an interesting metaphor to describe the behavior of medical professionals. The author, professor at the University of Texas Medical Branch in Galveston, likens their situation to being in a stage production. The general public views doctors while they are 'on stage' and do not see their behind-the-scenes dealings with the pharmaceutical industry 'back stage.' Brody contends that what the public doesn't see may actually hurt them. This book delves into each aspect of the doctor-pharma relationship, such as the quality of pharmaceutical research, the suppression of research findings and the role of drug sales representatives. He then looks to offer solutions to correct the corruption between the two. If you're looking for a complete view of the medical profession operates with respect to drug companies, then this book's for you.