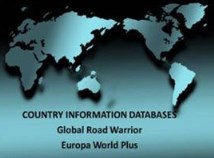 The virtual UW-Whitewater Global Experiences Fair will be available to Warhawks all day on Thurs., Oct. 1, through Canvas.
Andersen Library has resources, if you'd like to learn more. For country information, including customs, climate, politics, government, and more, try the databases Global Road Warrior and Europa World Plus. There also may be books about the customs and social life of a country of interest; some of these may be found by searching the Books, Media and more (UW Whitewater) portion of Research@UWW for something like ("world trade press" OR "marshall cavendish" OR greenwood) AND (women OR customs OR etiquette OR travel) AND <add country of interest>. Titles found will include those published by World Trade Press, which has a couple of series of volumes (each on individual countries) on "Women in Culture, Business & Travel" and "Society & Culture Complete Report," Marshall Cavendish's CultureShock series (Some CultureShock volumes are in Andersen Library's 3rd-floor Main Collection, e.g., CultureShock! Japan), and Greenwood Press's Culture and customs of <country> series (Some of these are in the 3rd-floor Main Collection too, e.g., Culture and customs of Jamaica).
For assistance with finding additional resources, such as articles or additional books, please ask a librarian (visit or contact staff at the Reference Desk, email, chat, or make an appointment).