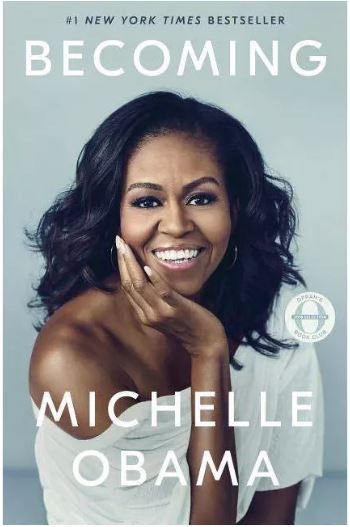 One in a series of reviews contributed by Chancellor Dwight C. Watson
Due to the racial and social unrest that took place in the aftermath of the death of George Floyd, my mind and heart was in a shamble. The unrest was multiplied by the fact that I was marinating in the self-isolation of COVID-19 and my spirit was aching for invigoration, inspiration, and connectivity. I have been fascinated with the Obamas and had the book Becoming sitting on my coffee table as a conversation piece. I had not taken the time to read it, but I made a pact with my sister who lives in Oklahoma that we would read and discuss it together as a way to navigate the boredom of COVID-19 and the disdain over the death of George Floyd. As we were reading the book, another seminal event took place which was the death of John Lewis. John Lewis was one of the leading figures of the 1960's WOKE Culture. He led the Student Nonviolent Coordinating Committee, walked with Dr. Martin Luther King across the Edmund Pettus Bridge in Selma, Alabama and became a lifelong freedom fighter in Congress. He was a dear friend and inspiration to Barack and Michelle Obama. Without John Lewis and his rousing call for freedom, there would not be a Barak Obama, a Michelle Obama, or a Dwight Watson as the first Black Chancellor of the University of Wisconsin-Whitewater.
As reported in the August 10, 2020, Time Magazine tribute issue to John Lewis, he was known as the conscience of Congress, and his beginning of the dream started with the March on Washington in 1963. "The march on Washington was a triumph. But after everybody agreed on that, the question was why: Why? Hardly in terms of immediate results, since there were none. The battle cry of the march was "Now!" Seas of placards demanded Negro equality – Now! Speakers demanded action – Now! Cried John Lewis…We want freedom and we want it NOW! But Now remained a long way off. It would not come today, tomorrow, next month, or next year. (Reprinted from Time Magazine, September 6, 1963: Full text – UWW access)
As an inspiration, I started the book Becoming, but I finished the book as a tribute to John Lewis who inspired many including the First Lady of the United State. Michelle Obama's triumphs are indeed a testament to the March on Washington which was the beginning of the dream and her becoming is a dream fulfilled. She spoke of her becoming as a beholding. She said, "I carried history with me, and it was not that of presidents or First Ladies. I never related to the story of John Quincy Adams the way I did to Sojourner Truth, or been moved by Woodrow Wilson the way I was by Harriet Tubman, The struggles of Rosa Parks and Coretta Scott King was more familiar to me than those of Eleanor Roosevelt or Mamie Eisenhower. I carried their histories, along with my mother and grandmothers. None of these women could ever imagine the life like the one I now had, but they had trusted that their perseverance would yield someone like me. I wanted to show up in the world in a way that honored who they were (pp. 364-365)."
Michelle Obama's book is filled with many amazing insights into what it was like to grow up on the South Side of Chicago as she shares the joys of her childhood as well as some of the tough things. She was a feisty child, driven to do well in school. Her story begins: "I spent much of my childhood listening to the sound of striving." She speaks lovingly of her roots in this working class family – her parents and her brother and grandparents and how their values shaped the adult she would become.
The book is divide into three sections – Becoming Me in which Michelle discusses her origin story, Becoming Us which is an account of her first encounter with Barak until he was elected President of the United States, and Becoming More which depicts her life and adventures of becoming the first Black First Lady of the United States. Michelle shares her love for her husband and daughters. She speaks about the discrimination against the men in her family, about being Black at Princeton, about the attacks on her husband's citizenship. We discover who she is in the times she is undergoing a self-discovery, as she questions her aspirations, as she juggles work and motherhood as Barack's involvement and aspirations in politics grow. The book is an intimate portrait of the personal struggles that she faced.
What I enjoyed most about the book was its candor. Michelle Obama was speaking to me as intimate friend and I understood her struggles and her triumphs as she wove her life story. This story was full of many self-doubts in which she asked herself, "Am I good enough?" Coming from meager means and becoming the First Lady was no mere incidental happenstance. This happened because of Barack Obama's ability to cause a swerve in Michelle's dogged persistence of making lists, checking off accomplishments, and striving to the next level which was to attend Princeton, then Harvard Law School, then attain a job in a major law firm, then to make partner. Barack's first campaign was to win the hand of Michelle Robinson and the rest became a history of firsts.
"As the only African American First Lady to set foot in the White House, I was "other" almost by default. If there was a presumed grace assigned to my White predecessors, I knew it was unlikely to be the same for me. I'd learned through the stumbles that I had to be better, faster, smarter, and stronger than ever. My grace would need to be earned. I worried that many Americans wouldn't see themselves reflected in me, settling in my new role slowly without being judged. And when it came to judgment, I was as vulnerable as ever to the unfounded fears and racial stereotypes that lay just beneath the surface of the public consciousness, ready to be stirred up by rumor and innuendo (p. 284)."
As a former First Lady, Obama states that she has encountered hypocritical and shallow people but many wonderful others, such as military spouses and teachers with outstanding spirits and fortitude. She recalls meeting children across the globe who filled her with joy and enabled her to forget her title, at least for a brief time. Throughout the book, the theme of becoming was evident –Becoming Me, Becoming Us, Becoming More. In the end, Michelle Obama recognized that confidence needed to be called from within as she asked and answered her continuous refrain. "Am I good enough? Yes, I am."
I started this book at the beginning of the George Floyd revolution as a way to calm my person and to re-engineer my heart, my mind and my soul. Through the reading of the book, I reflected on my own becoming as the first African American Chancellor at the University of Wisconsin-Whitewater as I celebrated my first year at the helm during turbulent times. I ended the book with the death of John Lewis and Reverend C.T. Vivian (they both died on the same day, July 17, 2020), two pioneers in the fight for freedom and justice. This review has come to an end with the plaintive words of John Lewis, a beloved friend of Michelle and Barak Obama.
"While my time here has now come to an end, I want you to know that in the last days and hours of my life you inspired me. You filled me with hope about the next chapter of the great American story when you used your power to make a difference in our society. Millions of people motivated simply by human compassion laid down the burdens of division. Around the country and the world you set aside race, class, age, language and nationality to demand respect for human dignity.
That is why I had to visit Black Lives Matter Plaza in Washington, though I was admitted to the hospital the following day. I just had to see and feel it for myself that, after many years of silent witness, the truth is still marching on.
Emmett Till was my George Floyd. He was my Rayshard Brooks, Sandra Bland and Breonna Taylor. He was 14 when he was killed, and I was only 15 years old at the time. I will never ever forget the moment when it became so clear that he could easily have been me. In those days, fear constrained us like an imaginary prison, and troubling thoughts of potential brutality committed for no understandable reason were the bars.
Though I was surrounded by two loving parents, plenty of brothers, sisters and cousins, their love could not protect me from the unholy oppression waiting just outside that family circle. Unchecked, unrestrained violence and government-sanctioned terror had the power to turn a simple stroll to the store for some Skittles or an innocent morning jog down a lonesome country road into a nightmare. If we are to survive as one unified nation, we must discover what so readily takes root in our hearts that could rob Mother Emanuel Church in South Carolina of her brightest and best, shoot unwitting concertgoers in Las Vegas and choke to death the hopes and dreams of a gifted violinist like Elijah McClain." (July 30, 2020. New York Times. Note: Mr. Lewis, the civil rights leader who died on July 17, wrote this essay shortly before his death, to be published upon the day of his funeral.)
I hope the readers of this blog find wisdom in the words of Congressman Lewis. To pay tribute to John Lewis, Reverend C.T. Vivian, Black Lives Matter, and the need for restorative perseverance during these turbulent times, read Becoming by Michelle Obama to experience the confluence (the grand intersections) and the influence (the glorious inspiration).
Notes from the Librarian:
For additional readings written by and about John Lewis, try this Research@UWW search. You will find Lewis' biography, Across That Bridge: Life Lessons and a Vision for Change, as well as books for younger readers, such as Freedom Riders: John Lewis and Jim Zwerg on the Front Lines of the Civil Rights Movement. Note especially the graphic novel format series of March, written by John Lewis and Andrew Aydin with art by Nate Powell, which is a first-hand account of John Lewis' lifelong struggle for civil and human rights.
The Library provides access to Reverend C. T. Vivian New York Times obituary, works such as Black Power and the American Myth, and archival materials such as Student Nonviolent Coordinating Committee papers. Listen to C. T. Vivian's responses during panel discussions with the 1961 Freedom Riders, and a 2007 interview, and see him frequently featured throughout PBS's acclaimed documentary "Eyes On The Prize" [1987 & 2006]. Visit the C. T. Vivian Leadership Institute online to witness his legacy.
For a few readings around WOKE culture, try