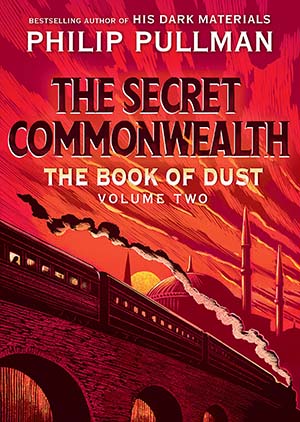 You may remember Philip Pullman's His Dark Materials trilogy. In this book, the second of a new trilogy, he has written a thrilling continuation of the story many years in the future.
In Pullman's The Secret Commonwealth, we meet up with Lyra Silvertongue and Pantalaimon ten years after the end of the His Dark Materials trilogy.
"The second volume of Philip Pullman's The Book of Dust sees Lyra, now twenty years old, and her daemon Pantalaimon, forced to navigate their relationship in a way they could never have imagined, and drawn into the complex and dangerous factions of a world that they had no idea existed. Pulled along on his own journey too is Malcolm; once a boy with a boat and a mission to save a baby from the flood, now a man with a strong sense of duty and a desire to do what is right." – Penguin UK article
I've read the His Dark Materials trilogy, and if this adventure has any of the gripping plot lines and exciting writing like those did, it will be worth the read.
Should you care to dive into the series, here are the pertinent books and movie. More Copies will be available through the UW System when UW Request restarts after the COVID-19 crisis.
His Dark Materials Trilogy (novels)
The Golden Compass (aka Northern Lights) (1995) – Whitewater campus

Film The Golden Compass (2007) – Rock County campus

Subtle Knife (1997) – Whitewater campus
Amber Spyglass (2000) – Whitewater campus
Related novellas
Lyra's Oxford (2003) – Whitewater campus
Once Upon a Time in the North (2008)
The Book of Dust Trilogy (novels)
La Belle Sauvage (2017) – Whitewater campus
The Secret Commonwealth (2019) – Whitewater campus
TBD
The Secret Commonwealth
Book of Dust vol. 2
by Philip Pullman
Main Collection, 3nd Floor
HF5548.8 .G7185 2018