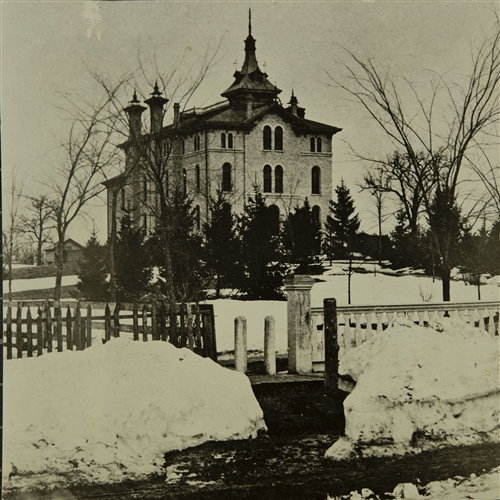 Tuesday, April 21, 1868, marked the opening day for the Whitewater State Normal School (now UW-Whitewater). Charles Brockway, one of the school's first students, recalled about the experience: "It was a bright, beautiful, April day…when the formal opening of the school took place. The sound of the hammer was still echoing through the halls and the workmen rested from their labors, while the citizens of the village and the students who on the morrow would meet to begin the active work of the school, gathered in the Assembly Room [of Old Main] to listen to the inaugural address of President Arey" (Salisbury, p.40) Oliver Arey's speech reflected on the importance of education, the progress of institutions of learning in the country, and the history and value of normal schools. The glee class sang a dedicatory song written by Mrs. H.E.G. Arey, teacher of English literature, French, and drawing. President Allen from the Platteville Normal School and President Chadbourne from the University of Wisconsin were also on hand to congratulate the new school.
Started as a school to educate teachers, the school offered two areas of study, the normal department and the model or training school. The model school gave teachers-in-training the opportunity to educate the children of Whitewater. President Salisbury said the school provided "academic facilities to the local community, which felt itself entitled to such privileges by reason of the bonus it had given to secure the location of the school"(Salisbury, p. 14). Students in the normal department followed a three year program of study. Like many normal schools, classes in the normal department were free if students pledged to teach in the state after graduation. Below is an image of the register student signed stating that they would teach in the state after graduation. The top names on the left and right column are two of the six students who were in the first graduating class in 1870.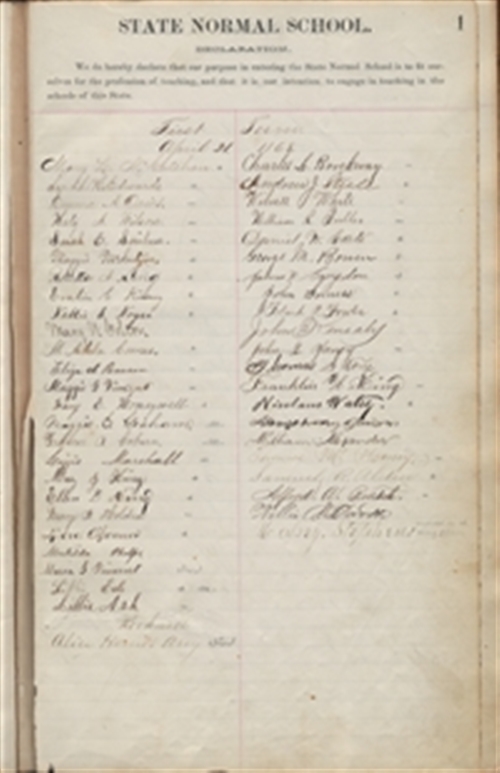 Many things have changed over the last one-hundred fifty-two years, but Charles Brockman's words about education at UW-Whitewater still ring true: "Day by day, here a little, and there a little, the mind opens, the faculties expand, the powers increase, the ability grows, and the world and life are better" (Salisbury, p. 41).
Salisbury, Albert. Historical Sketches of the First Quarter-century of the State Normal School at Whitewater, Wisconsin : With a Catalogue of Its Graduates and a Record of Their Work, 1868-1893. Madison, Wis.: Tracy, Gibbs, 1893.