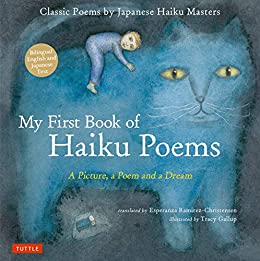 This beautiful book of haiku poems is just what I needed in these current strange times! Maybe you need it, too?

The poems in this book are all originals by Japanese haiku masters. The fully bilingual book actually prints the Japanese in characters and in Romanized script, as well as in English of course. Since they are in translation, the English versions do not always follow the "5 syllables – 7 syllables – 5 syllables" rule that we probably all remember imitating in elementary school, but they are none the less beautiful and touching for that.

A poem like this one:
Just being alive
the poppy flower
and I.
seems especially appropriate in this season, as spring bursts to life by the day and the human activity normally seen at this time is muted. But that stillness also brings some opportunity for reflection that we might otherwise miss. Perhaps you can find the same satisfaction and even joy as the poet suggests, just in being alive with a flower in your backyard?

Since it's rather difficult for any of our readers to browse through the lovely images which are half the appeal of a book like this one, check out the publisher's page for a peek at some of the fantastical, magical illustrations that accompany the text. And remember, while the library's closed, you can still request to check out this or any other item! Use the Drive-Up Library Pick Up link on the library home page.
My first book of haiku poems: A picture, a poem, and a dream
translated by Esperanza Ramirez-Christensen, illustrated by Tracy Gallup
New Arrivals Island, 2nd Floor
E My