March is Women's History Month. If you're interested in researching a topic related to women's history, resources are plentiful.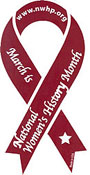 The Library of Congress is providing information and resources online in celebration of women, using materials it has collected over the last 200 years. Resources include lesson plans; images of notable women; a selection of audio/video files, photographs, memoirs of women's experiences at war from the Veterans History Project; and more.
The National Women's History Project provides a history of National Women's History Month.
The National Women's History Museum has many online exhibits, including "First But Not the Last: Women Who Ran for President." This exhibit highlights the campaigns of 12 women who announced their intentions to run for the Presidency, out of about 35 known to have done so over the years.
Your University Library has many resources about women's history also, including reference works such as Encyclopedia of American women in business: from colonial times to the present, circulating books such as Inventing black women: African American women poets and self-representation, 1877-2000, and articles and other materials in various Library databases. Do a subject keyword search in the Library catalog for women history to see a sampling of subject topics on which materials are available, or ask a librarian for assistance in formulating a search to find materials on more specific topics, such as "women political candidates."
An especially relevant database is Women and Social Movements in the United States 1600-2000. This database includes documents, images, web links, a dictionary of social movements and organizations, a chronology of women's history in the U.S., and teaching tools such as lesson plans. Learn, for example, about the Guerrilla Girls organization and their efforts to expose sexism in art and film, read excerpts from the hospital diary of Mary E. Shelton (a Civil War era nurse in Nashville), find speeches given at the Congress of Women (held as part of the the 1893 World's Columbian Exposition in Chicago) such as "Study of Greek Art" and "Progress of Fifty Years," or research the Hull House of Chicago (a settlement house that attracted many female residents who later became prominent and influential reformers at various levels).

The University Library is a federal depository with many federal, state, local, and international documents on a variety of current and relevant issues available to you in print, microfiche, CD-ROM, and electronically. Come check out your government at the University Library!