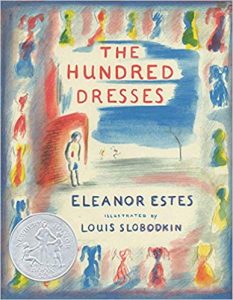 The Hundred Dresses
by Eleanor Estes, illus. by Louis Slobodkin
New Arrivals Island, 2nd Floor
F Est
Not a new creation, exactly, but this new edition of the old classic Newbery Honor Book published in 1944 was warmly-received by me and, I hope, by others who remember the book from their childhoods. I had a foggy recollection of a sweet and sad story, and in a quick re-read in a quiet afternoon on the reference desk, I was not disappointed.
What I didn't remember was the vibrant illustrations by Louis Slobodkin, which add quite a lot whether they're in shimmering watercolor or charcoal/pencil hues. The double-page spread where you finally do get to see the girl's hundred dresses is stunning. Perhaps the most touching addition is the foreward by Helena Estes, the daughter of the book's author Eleanor Estes; she relates how the story has touched so many people throughout the world that she still continues to get letters from readers. Some ask, "Is it a true story? Did this happen to you?" and though it's fictionalized, the story is based on the memory of a childhood interaction Eleanor had on the schoolyards of her childhood.
Its message — the lesson learned by main character Maddie: "She was never going to stand by and say nothing again" (p. 63) — is as timeless, and needed today, as it ever was.