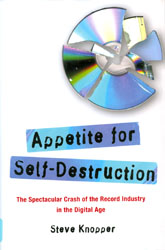 Appetite for Self-Destruction:
The Spectacular Crash of the Record
Industry in the Digital Age
By Steve Knopper
ML3790 .K57 2009
New Book Island, 2nd floor
I left the selection of this week's New Stuff Tuesday up to one of our student assistants, Nate. You can be the judge of whether or not he picked a good one (I think that he did – especially since I was the one that ordered it). You better come check it out before he does.
Knopper, a contributing editor at Rolling Stone, blames the record industry for its own self-implosion and documents the music biz's rise through the 1980s and 1990s and the subsequent meltdown. While many would point to Napster as the giant killer, the author names names and the exact mistakes made – eight in all – to create their own fight for survival. In case you're wondering, the business committed five major mistakes before Shawn Fanning released his infamous file-sharing program. With extensive insider knowledge, Knopper does an excellent job of chronicling the industry, from Video Killed the Radio Star to the boy bands to the iPod.