Welcome (back) to UW-Whitewater!
Andersen Library is open Mondays-Fridays from 8 a.m.-4:30 p.m. (closed on Saturdays and Sundays) until Fall Semester starts on Tuesday, September 3. Library staff members will be out and about at various events, though, and responding to phone calls and emails.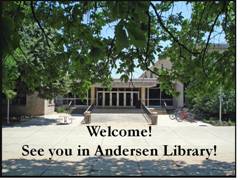 There will be a library table at the Information Fair in the University Center's Hamilton Room on Thursday, August 22, from 1-2:30 p.m.
New faculty/academic staff are invited to an orientation to library services and resources in Andersen Library on Friday, August 23, from 8:30-9:45 a.m.
RAs and nontraditional students can meet librarians at events for them on Monday, August 26.
New first-year students and their peer mentors will see librarians at HawkFest on Labor Day Monday, September 2.
Please contact us with your questions, and we will be happy to help with your semester preparations! Use the emails or phone numbers on the staff listing page (scroll down to see the list of liaisons to different departments or colleges), or use the email, chat, or appointment options on the "Get Help" page!
Fall Semester hours will begin in Andersen & Lenox (Rock County) libraries on Tuesday, September 3rd.