If you enjoy guitar, attend "Gladius: A Night of Spanish Guitar Music" on Wed., July 17, from 7-8pm at the Irvin L. Young Memorial Library (Whitewater's public library at 431 W Center St, Whitewater). Space is limited, so plan to arrive at least 15 minutes before it starts!
If you're a lover of guitar music but can't make this event (or if you just want more), check out Andersen Library's resources, including CDs like Concierto de Aranjuez (2nd/main floor Academic CDs, M1037.4.G8 R6 2004), Andrés Segovia: A centenary celebration (2nd/main floor Academic CDs, M125.S43 A5 1994), and In the Spanish style (2nd/main floor Academic CDs, M125.P37 I6 1986).
Also available are resources on learning to play the guitar, if you're lookng for a summer project!
You can get a taste of the music via YouTube, e.g.,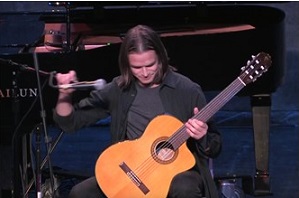 Please ask a librarian (email, chat, phone 262.472.1032, or visit the Reference Desk) for assistance with finding additional materials.