Stephen Ritz, educator/administrator, innovator and urban farmer, will talk about "The Power of a Plant: A Teacher's Odyssey to Grow Healthy Minds and Schools" at 7pm on Mon, Apr 22, 2019 in the Irvin L. Young Auditorium. It's the last Letters & Sciences' Contemporary Issues Lecture of the year! Lectures are free and open to the public. Contact Susan Johnson (johnsons@uww.edu; 262-472-4766) for further information.
Ritz's internationally-certified and award-winning curriculum that incorporates sustainability, food, energy and environmental justice concepts aligned to STEM content areas for elementary schools has helped increase daily attendance in his south Bronx school from 40% to 93%, helped provide 2,200 youth jobs, and resulted in Ritz receiving awards including New York Environmental Quality Award and a U.S. EPA Environmental Quality Award.
You can view his TED talk, "A teacher growing green in the South Bronx." Text from his book, "The Power of a Plant", may be previewed via Google Books, or UWW students and staff may request that UW-Stevens Point send its copy to Andersen Library via the free UW Request service (a requested item usually arrives in 3-5 weekdays, unless it is checked out already by someone else).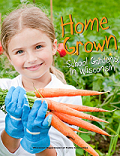 Andersen Library may have resources if you'd like to learn more, such as the books Ripe for change: Garden-based learning in schools (3rd-floor Main Collection, SB55 .H54 2015) and Home grown: School gardens in Wisconsin (online via Wisconsin Digital Archives–click the blue download button, next to the blue printer button in the upper right, to open the document).
Please ask a librarian (email, chat, phone 262.472.1032, or visit the Reference Desk) for assistance with finding additional materials.