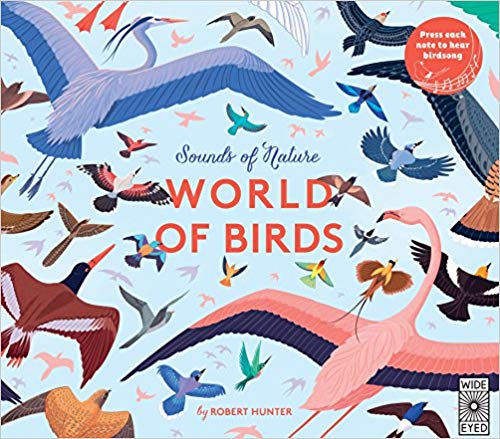 World of Birds
by Robert Hunter
E Hun
New Arrivals Island, 2nd Floor
Blame it on tech-enabled everything these days, but it seems to me that picture books for the younger set are getting ever more techie and interactive. I'm not complaining, when it results in books like this lushly illustrated volume that plays (through the pressure sensors on the back page) the calls of 60 separate bird species! I do wish the calls were a little more clearly separated — currently all 8 or 10 or so birds from a given page will play in one 5- to 10-second recording, sometimes overlapping and it's hard to tell what is what bird. But the result feels like you're out in the jungle or the Australian outback, listening to a cacophony of birds all around you, so I can't criticize too much.
I trust the bird calls must be highly accurate because they were created in collaboration with the Cornell Lab of Ornithology. I also love the diversity of the creatures represented — all 7 continents, 10 different habitats, birds large and small, running, swimming, and flying.
Out of curiosity, I wondered if we had other sound-playing books by this publisher. It doesn't look like any of the others play sounds, but the library has quite a collection of high-quality illustrated picture books from this publisher that are just begging to be used in your next social studies or science lesson plan!