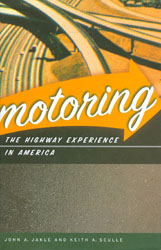 Motoring:
The Highway Experience in America
By John Jakle & Keith Sculle
GV1021 .J33 2008
New Book Island, 2nd floor
With spring on the verge of breaking through, our minds instantly begin to think to summer. When you think of summer, what comes to mind? Personally, I think of road trips. In the last two and a half years, I've put over 50,000 miles on my car from driving to Virginia (twice), Colorado, Pennsylvania and countless trips over to the wrong side of the Wisconsin-Illinois border. With that in mind, I thought that Motoring would be a perfect title for New Stuff Tuesday.
Jakle, emeritus professor from the University of Illinois, and Sculle, head of research at the Illinois Historic Preservation Agency, primarily investigate recreational travel from 1900 to 1960, placing particular emphasis on the driver's experience. The authors cover everything from dealerships and garages, filling stations and roadside attractions, all the way to the rise of the convenience store. The book tackles the subjects of not only American history, but urban planning, business history, technology, psychology and much more.
The authors have written several other books together – the Library has Fast Food: Roadside Restaurants in the Automobile Age (TX945 .J35 1999) and Gas Station in America (TL153 .J27 1994) available in the Main Collection on the third floor.