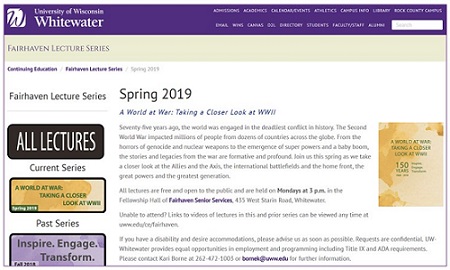 The Spring 2019 Fairhaven Lecture Series will focus on "A World at War: Taking a Closer Look at WWII." All lectures are free and take place on Mondays at 3pm in Fellowship Hall of Fairhaven Senior Services (435 West Starin Road, Whitewater), starting on January 28th. Here's the schedule of lectures, recordings of which may be posted to the lecture series website:
Jan 28: "Making the Movies Safe for War: The WWII Combat Film" by John McGuigan, Professor, Languages and Literatures
Feb 4: "Hidden Pasts and Desires: Gay and Lesbian Lives During WWII" by Ashley Barnes-Gilbert, Lecturer, Women's and Gender Studies
Feb 11: "Why American Literature Mattered in the 1940s" by John Pruitt, Associate Professor, English
Feb 18: "The Decision to Drop the Atomic Bomb, Part 1" by David McKay, Senior Lecturer, History
Feb 25: "The Decision to Drop the Atomic Bomb, Part 2" by Dave Carlson, Senior Lecturer, Philosophy
Mar 4: "American Politics in the Shadow of World War II: Re-examining the Presidential Elections of 1940 and 1944" by Louis Fucilla, Assistant Professor, Political Science
Mar 11: "American Hegemony: The World the Greatest Generation Built" by F. Peter Wagner, Associate Professor, Political Science
Mar 18: "Women of the Air: American Women Pilots in World War II" by Elizabeth Jozwiak, Associate Professor, History
Mar 25: "Understanding the Soviet Experience in World War II" by Elizabeth Hachten, Assistant Dean, College of Letters and Sciences
Apr 1: "WWII and the Creation of the Modern Middle East" by Molly Patterson, Associate Professor, History
Apr 8: "The German-American Community and World War II: A Cautionary Tale" by Tim Holian, Senior Lecturer, Languages and Literatures
Apr 15: "Children, Save Yourselves! One Family's Story of Holocaust Survival" by Ronald Berger, Professor Emeritus, Sociology, Criminology and Anthropology
Apr 22: "Humanity, Hospitals, or Historical Monuments? Protecting Italian Cities from Aerial Bombardment During World War II" by Margo Kleinfeld, Associate Professor, Geography, Geology and Environmental Science
Apr 22: "The West Is the Best / The Beast in the East: World War II Ends and the Cold War Begins" by Karl Brown, Assistant Professor, History
You can learn more with Andersen Library resources, such as books like The World War II combat film: Anatomy of a genre (3rd-floor Main Collection, D743.23 .B36 1986) and articles such as "Strange fruit: White, Black and Asian in the World War II combat film "Bataan" (Journal of Popular Film & Television, 2008, vol.36:no.1, pp.9–20. https://doi.org/10.3200/JPFT.36.1.9-20) and "Cinema and the civilizing process: Rethinking violence in the World War II combat film" (Cinema Journal, 2005, vol.44:no.3, pp.35-63. There also may be online resources, such as this blog entry from the National Archives with viewable Marine film clips, ""The Camera Tells the Truth": Camera Rolls from the Battle of Tarawa."
Please ask a librarian (email, chat, phone 262.472.1032, or visit the Reference Desk) for assistance with finding additional materials.