Dr. Kyle Whyte, Timnick Chair in the Humanities at Michigan State University and Associate Professor of Philosophy and Community Sustainability, will talk about "Indigenous Sustainability: Honoring Lands, Resurging Communities, Resisting Injustice" on Mon., Nov. 26, 2018 at 7pm in the Irvin L. Young Auditorium. It's part of the Contemporary Issues Lecture series!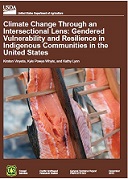 Andersen Library's resources can help you read some of Dr. Whyte's publications, such as the articles "Indigenous women, climate change impacts, and collective action" (Hypatia, 2014, vol.29:no.3, pp.599-616), "Justice forward: Tribes, climate adaptation and responsibility" (Climatic Change, 2013, vol.120:no.3, pp.117-130), and "Weaving Indigenous science, protocols and sustainability science" (Sustainability Science, 2016, vol.11:no.1, pp.25-32), and the 2015 Forest Service publication Climate change through an intersectional lens: Gendered vulnerability and resilience in indigenous communities in the United States (General technical report PNW ; 923). Dr. Whyte provides a list online of his forthcoming and currently published articles, and his website also offers essays, a video, teaching materials, and more.
There also are other resources such as the books Rethinking resource management: Justice, sustainability and indigenous peoples (online via EBSCO eBook Collection) and Seventh generation earth ethics: Native voices of Wisconsin (2nd-Floor New Arrivals Island, E78.W8 L654 2014).
If you'd like assistance with finding additional information, please ask a librarian (choose chat or email, phone 262-472-1032, or visit the Reference Desk).
Andersen Library is a federal depository library with federal government documents on a variety of current and relevant issues available to you in various formats (print, DVD/CD-ROM, online). Check out your government at Andersen Library!