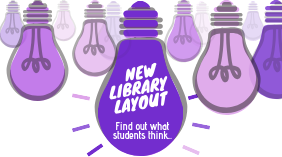 As many may have noticed Andersen Library received a pretty significant makeover over the summer! In an effort to gain patron feedback on the new layout, a 'suggestion-board' was made available at the beginning of the Fall 2018 semester.
After compiling an entire weeks-worth of content from library-goers we were happy to see the numerous positive responses to the changes, as well as compelling suggestions in regard to what patrons would like to see in the future that would continue to make the Andersen Library a comfortable environment for students to learn, engage, and achieve their academic goals.
Below are just a few of many positive comments of "What's to like?" about the new layout and suggestions for "What's next?". Check it out!
What's to like?
"Love the openness!"
"Less distractions"
"Open space is relaxing"
"Easy access to outlets"
"Such a welcoming environment!"
"Makes you want to curl up with a good book"
"Love the new carpet"
"Great studying environment"
"More room for more fun"
"I love the new area for therapy dogs"
What's next?
"More group study rooms"
"USB outlets"
"More art on the walls"
"Gender neutral bathrooms"
"Make Archives and Area Research more noticeable"
"More therapy dog sessions"