Raymond A. Winbush, Director of the Institute for Urban Research, a social science research institute at Morgan State University (MD), will speak on Tuesday, March 11, 2008, at 4pm in Upham 145. His talk on "Challenging African American Males" is part of the African American Heritage Lecture Series.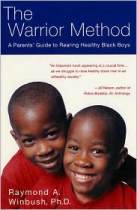 Mr. Winbush is the author of The warrior method : a program for rearing healthy Black boys. The synopsis from Barnesandnoble.com reveals that the program described in this book is designed to help boys become strong, self-reliant men and instill the values of self-respect, dignity, and honor by drawing on such African traditions as the "Birthing Circle" and a "Young Warriors Council."
UWW students and staff may borrow this title free from other UW libraries using the Universal Borrowing service. Requested materials arrive in 2-4 weekdays.