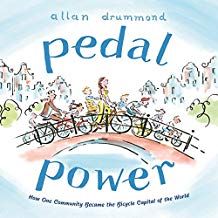 Pedal power: How one community became the bicycle capital of the world
Allan Drummond
2nd floor, call number E Dru
In recent years I've become a bit of a bike aficionado: for five years now, at my previous job and this one, I've lived close enough to work to bike-commute every day, and thanks to Whitewater's small size I can bike to 95% of my errands in town too.
So imagine my delight when I saw this children's book on the "new" list! The inspiring story of how Amsterdam became the bike capital of the world is told through everyday people, mothers and children, who wanted a safer and more people-friendly way to travel through their city. The interesting text and whimsical, motion-filled illustrations are balanced by equally-as-interesting front- and end-papers and an Author's Note with historical photos from Amsterdam's protests. The result of this history is a city with bike-stoplights and an enduring love affair with its bikes, as shown in this mini documentary.
While our small college town may be not known as much of a bike mecca compared to neighbors like Madison or bigger cities, our city leaders have for years tried to improve the bicycle infrastructure – for example by developing our Bicycle and Pedestrian Plan, and indeed we can see the fruits of such planning in the many bike trails that leave from or near the UW-Whitewater campus. Try one of the routes around town, or even in the beautiful Kettle Moraine forest or in the rural areas outside of town if you're up for a longer distance!