The Whitewater Arts Alliance (WAA) will host an exhibit called "Making Magic with Mixed Media" at the Cultural Arts Center (402 West Main Street, Whitewater) from Thurs, Aug 2-Sun, Aug 26. The gallery is open from noon-5pm on Thursdays-Sundays (closed Mondays through Wednesdays). There will be a closing reception on Sun, Aug 26 from 1-3pm.
To participate in the exhibit, go to www.whitewaterarts.org to get the entry form, which must be sent to the Whitewater Arts Alliance, P.O. Box 311, Whitewater, WI 53190, by July 18. Artwork must be delivered to the Cultural Arts Center on Mon, Jul 30, between 4:30 and 6:30pm. WAA members may submit four pieces; non-members, three pieces.
In addition, there will be three free demonstrations on using different materials and techniques in mixed media at the Cultural Arts Center. The demonstrations are open to the public and run from 1-3pm, but please contact Linda Long to let her know you are coming: email Lcubed12@gmail.com or call 262-473-5538.
"Alcohol Ink and Pen" by Kathy Gibbs – Thurs, Aug 9
"Watercolor and Mixed Media" by Karolyn Alexander – Fri, Aug 17
"From Pop Can to Pop Art" by Dawn Hunter – Thurs, Aug 23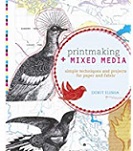 Would you like to learn more about mixed media? You can preview text from Painting with Mixed Media or The Complete Book of Mixed Media Art via Google Books to get some ideas (these and other books may be available from public libraries or UW-Whitewater students and staff can make ILLiad interlibrary loan requests for them; requested items usually arrive in 5-7 days), or UW-Whitewater students and staff may request An introduction to mixed media from another UW campus library via the free UW Request system (requested items arrive in 2-5 weekdays), or peruse books at Andersen Library such as Printmaking + mixed media: Simple techniques and projects for paper and fabric (3rd-floor Main Collection, NE860 .E45 2009).
If you'd like assistance with finding additional information, please ask a librarian (choose chat or email, phone 262-472-1032, or ask to see a reference librarian in Andersen Library).