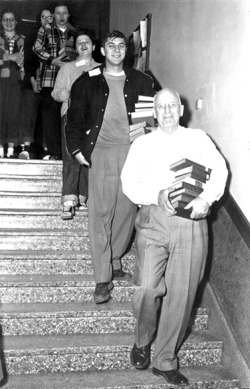 On February 26, 1953, campus and community members helped carry books from UW-Whitewater's Old Main library into the new Andersen Library building. 65 years, two additions, and myriad changes later, Andersen Library still strives to provide students with resources and services to help them succeed in their academic work.
Did you know? The only part of the Library currently residing in the original 1953 Andersen Library building is the University Archives collection! The original section also houses iCIT, the Center for Students with Disabilities, and the Andersen General Access Computer Lab. The rest of Andersen Library is in the two additions added in 1965 and 1970, along with some Communication Dept. faculty offices, classrooms, the campus TV and radio stations, a motion capture lab, the Distance Education classroom, and the Office of Research and Sponsored Programs.
You can read about Harold G. Andersen (Class of 1917), after whom the Library is named, in Campus Cornerstones.