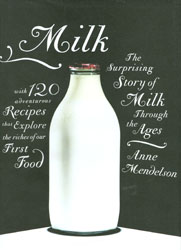 Milk:
The Surprising Story of Milk Through the Ages
By Anne Mendelson
SF251 .M46 2008
New Book Island, 2nd floor
In honor of Barb's 200th blog post over the weekend, this week's featured title made me think of her and her beloved animal. Oh yeah, and Wisconsin.
Mendelson, a seasoned food writer, takes an exploratory trip down way down memory lane at one of the first foods. In the first part of the book, she examines the origins of milk in the Old World, in which people used sheep's and goats' milk to make their yogurt. She then heads to the "Northwestern Cow Belt" (northern Europe and North America as defined by the author) and discusses the modern approaches and practices of the dairy 'industry'. The second (and best) part of the book – or at least the part that will make you hungry – is a compilation of recipes that feature milk, cream, yogurt and other dairy products. Personally, I've always wanted to know what clotted cream was, other than delicious, and how to make it. Now I know!
Milk. Does a body good.