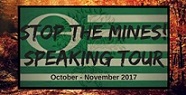 The Stop the Mines! Speaking Tour is making a stop at UW-Whitewater on Wed., Nov. 15, from 6-9pm in Heide 101. Speakers will be Dr. Al Gedicks, executive secretary of the Wisconsin Resources Protection Council, and members of the Menominee Tribe. The tour/event is co-sponsored and organized by several organizations, including UW-Whitewater student organizations Native American Cultural Awareness Association (NACAA), Students Allied for a Green Earth (S.A.G.E.), Peace, Education, and Activism through Creative Engagement (P.E.A.C.E.), Latinos Unidos, and UWW College Dems.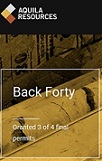 Aquila Resources, a Canadian mining company, has proposed to build the "Back 40" sulfide mine in Michigan's upper peninsula (in an area called the Back 40) along the Menominee River, 150 feet from the river banks. Some organizations such as River Alliance of Wisconsin predict that the mine will contaminate the river, endangering drinking water quality and aquatic life. Additional information on the Back 40 Proposed Mine Project, including maps, resource links, and a video of Al Gedicks speaking, is available from the Fox Valley Group of the Sierra Club. A statement by the Chair of the Menominee Indian Tribe of Wisconsin said that "Approval of the permit places Industry greed before the health and life-sustaining needs of the people who reside in this area and within the Great Lakes Region" and fails to protect the rich cultural and environmental resources of this area, including tribal burial sites. More information about the Tribe's opposition to the project is available at the "No Back 40 Mine" web site. You can listen to, or read the transcript of, Wisconsin Public Radio (WPR) news from Oct. 4 "Tension Mounts Over Back Forty Mine As It Nears Final Approval," which talks about the controversy, including Aquila Resources spokeswoman Chantae Lessard's claim that the project will "create around 240 jobs in the first year and about $20 million annually in local, state and federal tax revenues." Aquila Resources provides additional information about the mine project on its website, including the steps it has taken to be in compliance, e.g., a comprehensive environmental baseline study to meet Michigans' Part 632 Permit to Mine requirements. See also Meidatrackers ""Back Forty" Mine Holds up To Gedicks' and Gauger's Criticism" dated Sept. 19, 2017.
Andersen Library resources may be able to help you learn more, e.g., such as "The danger of "sulfide mining" in the Lake Superior region" (Proceedings and Abstracts – Institute on Lake Superior Geology. Meeting, 2014, 60, 115-116), "Rescaled-range (R/S) analysis of time series of heavy metal pollution in iron sulfide mining area" (Environmental Science and Information Application Technology, 2009, 2, 249-252) and "Geochemical and mineralogical aspects of sulfide mine tailings" (Applied Geochemistry, 2015, vol.57, pp.157-177).
If you'd like assistance with finding additional information, please ask a librarian (choose chat or email, phone 262-472-1032, or visit the Reference Desk).