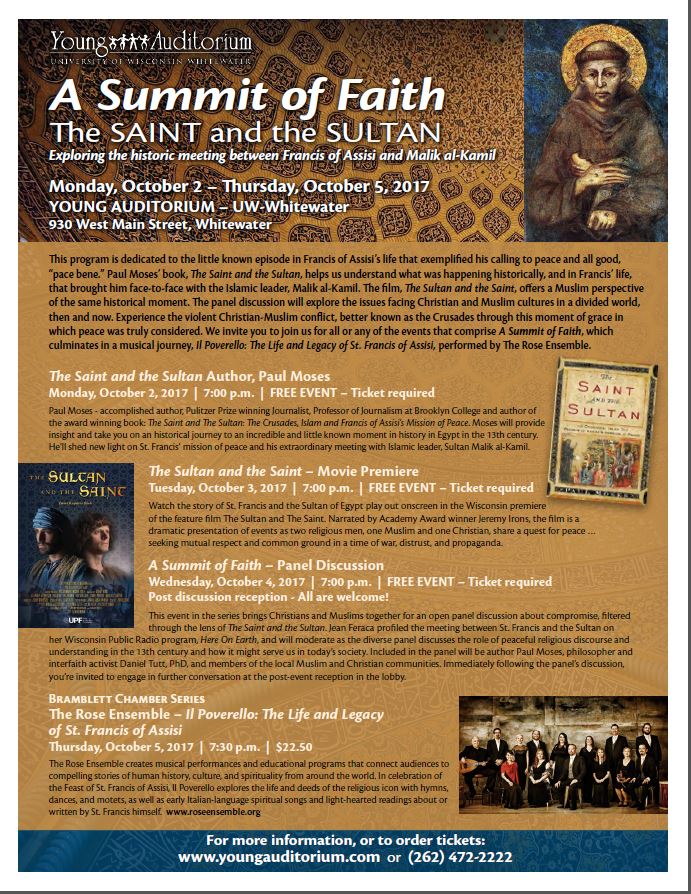 This Fall, the Young Auditorium is sponsoring A Summit of Faith, based on the 13th Century encounter between St. Francis of Assisi and the Sultan of Egypt. The unusual meeting between these men is featured in Paul Moses' book, The Saint and the Sultan: Crusades, Islam, and Francis of Assisi's Mission of Peace.
Four enriching events make up the program, which speaks to both the historical event that brought Francis of Assisi and Sultan Malik al-Kamil together in the 13th Century as well as contemporary Christian-Muslim relations.
The Saint and the Sultan author talk, Paul Moses
Monday, October 2, 2017, 7:00 p.m.
The Sultan and the Saint Movie Premiere
Tuesday, October 3, 2017, 7:00 p.m.
A Summit of Faith Panel Discussion
Wednesday, October 4, 2017, 7:00 p.m.
The Rose Ensemble – Il Poverello: the Life and Legacy of St. Francis of Assisi
Thursday, October 5, 2017, 7:30 p.m.
Most events are free, but tickets are required and are available now at the Young Auditorium Box Office in the Center of the Arts.
If you'd like to learn more about St. Francis of Assisi, Sultan Malik al-Kamil, or the Fifth Crusade, see Research@UWW, Andersen Library's discovery tool.