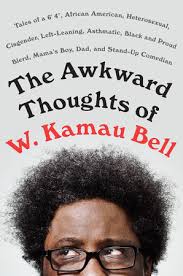 The Awkward Thoughts of W. Kamau Bell
Tales of a 6'4″, African-American, Heterosexual, Cisgender, Left-Leaning, Asthmatic, Black and Proud Blerd, Mama's Boy, Dad, and Stand-Up Comedian
By W. Kamau Bell
PN2287.B414 A3 2017
New Arrivals Island, 2nd floor
W. Kamau Bell is all the things in the subtitle of his new memoir and a keen social and political observer as well. His book traces his development as a comedian interested in how racism, classism, and sexism often work together to limit humanity's potential.
If all of this sounds very dry, it's not! Although he invites the reader to enter into awkward conversations to promote "real and lasting changes in the world," Bell voices his thoughts here with humor and clarity and the book is a great read.