Ben Hewitt will talk about "Growing a Local Food System: Local food as economic driver and local nourishment" on Mon, Apr 17 at 7pm in the Irvin L. Young Auditorium. It's part of a week of activities celebrating Earth Day with the theme of sustainability!
Hewitt is the author of several books, including The town that food saved: How one community found vitality in local food (preview at Google Books), The nourishing homestead: One back-to-the land family's plan for cultivating soil, skills, and spirit (preview at Google Books), and Home grown: Adventures in parenting off the beaten path, unschooling, and reconnecting with the natural world (preview at Google Books), which may be available within 2-5 weekdays from another UW via free UW Request; as well as Making supper safe (available at the Irvin L. Young Memorial Library in adult nonfiction at 363.192 H497; or preview at Google Books). He writes about how local agriculture and food production may revive our health, our communities, and our economy. Hewitt's freelance articles on various topics have appeared in periodicals such as the New York Times Magazine, Wired, Gourmet, Discover, Eating Well, Men's Journal, National Geographic Adventure, and Outside. He and his family live on a farm in Northern Vermont that is powered by a windmill and solar photovoltaic panels, and includes cows, pigs, sheep, and chickens. You can learn more by reading his Lazy Mill Hill Farm blog.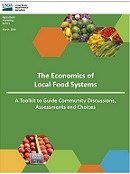 Andersen Library can help you find related resources, including articles such as "Are local food and the local food movement taking us where we want to go? Or are we hitching our wagons to the wrong stars?" (Agriculture & Human Values, 2011, vol.28:no.2, pp. 273-283. doi:10.1007/s10460-010-9263-0), "Food miles, local eating, and community supported agriculture: Putting local food in its place" (Agriculture & Human Values, 2013, vol.30:no.4, pp.615-628. doi:10.1007/s10460-013-9436-8), and "Local food networks as catalysts for food policy change to improve health and build the economy" (Local Environment, 2015, vol.20:no.9, pp.1103-1121. doi:10.1080/13549839.2014.894965). Also see The economics of local food systems: A toolkit to guide community discussions, Assessments and Choices (2016), a resource from the U.S. Dept. of Agriculture.
If you'd like assistance with finding additional information, please ask a librarian (choose chat or email, phone 262-472-1032, or visit the Reference Desk).
Andersen Library is a federal and Wisconsin depository library with federal and state government documents on a variety of current and relevant issues available to you in various formats (print, DVD/CD-ROM, online). Check out your government at Andersen Library!