The first Spring 2017 Whitewater Observatory Lecture, "Comet 41P/Tuttle-Giacobini-Kresák: What does it tell us about the solar system's formation and life on Earth?," will be delivered by Paul Rybski, Dept. of Physics, on Fri, Apr 7, at 8pm in Upham 140. The Lecture Series theme is "An Astronomical Potpourri," and the next lectures will be
April 21 — "Great Discoveries in Mapping the Milky Way's Structure: The untold stories" by Robert Benjamin, Dept. of Physics
May 5 — "New Instruments and Astronomical Discoveries: Creating an astronomical life" by Paul Rybski, Dept. of Physics
Periodic comet 41P/Tuttle-Giacobini-Kresák made its closest pass to Earth since 1858 on Sat, Apr 1. But if you missed the chance to aim your binoculars or telescopes at it then, there may be an observing session starting at approximately 9:15pm on Fri, Apr 7 at the Whitewater Observatory (just north of the UWW Alumni Center), immediately following the the lecture. Please note that the observing session is dependent upon cooperative weather, so please check for a cancellation notice at http://www.uww.edu/cls/departments/physics/observatory. Weather permitting, two types of telescopes will be used:
a 9.25-inch aperture GOTO telescope at high power to look in detail at the comet's central bright area (coma), and
two varieties of "richest-field" reflecting telescopes for the best chance to see a cometary tail and/or an extended coma.
You can find more information about viewing this and other April comets at http://cometchasing.skyhound.com/, in the article "Comet viewing the whole night through" (Astronomy, 2017:May, vol.45:no.5, p.42), or at https://theskylive.com/41p-info.
The Physics Department also offers that you can read more about comets and mobile apps for displaying them for iOS and Android operating systems at http://www.space.com/36166-riding-with-comets-mobile-apps.html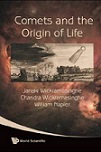 Andersen Library resources also can help you learn more, with books such as Comets and the origin of life (online via ebrary/ProQuest Ebook Central)
If you'd like assistance with finding additional information, please ask a librarian (choose chat or email, phone 262-472-1032, or visit the Reference Desk).
Andersen Library is a federal and Wisconsin depository library with federal and state government documents on a variety of current and relevant issues available to you in various formats (print, DVD/CD-ROM, online). Check out your government at Andersen Library!