Student teachers, students in education classes, teachers, etc:
The Federal government produces materials specifically for classroom use. There are many such items in the University Library's Federal Documents collection. Here are some examples:
Scenes of Science (Grades 6 – 12, DVD)
Call no. A 77.40:SCI 2 (ask at the Reference Desk)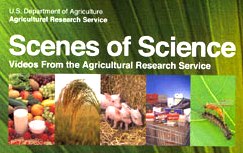 Learn how the Agricultural Research Service is working to ensure a safe and high quality food supply, assess the nutritional needs of Americans, sustain a competitive agricultural economy, enhance the natural resource base and the environment, and provide economic opportunities for communities. Topics include; Foods and Health, Crops and Environment, Farm Animals, New Products, and Insects.
The Wisconsin State Capitol Activity Book
call no. WIS A 9/2:C 3/5/1993
This coloring and activity book for young kids will entertain as well as teach them about the history of the State Capitol building, its architectural designs, State Seal, State animal, the Governors of Wisconsin, and the flowers and trees planted around the square. Learning about the State of Wisconsin government is required for all 4th graders, but it's also fun for those teaching and learning about it.
Wisconsin Quality Educator Initiative: PI 34 Professional Development Plan
call no. WIS ED 6/2:E 28/2/2005
Published by the Wisconsin Department of Public Instruction, this document holds the very information all teachers within the state are concerned about: how to get licensed to teach. It gives teachers the necessary guidelines for renewing their teaching license with a professional development plan (PDP) and tells you how to write a PDP. Check out this important document today so you know what to do when you have to renew your teaching license so you can continue to have a positive influence on young kids within the education field today.
Helping Your Child Learn Math
call no. ED 1.302:C 43/35
Math isn't everyone's favorite subject in school. That's why the Department of Education has published this informative document to give parents and teachers a guide to help children learn math through a variety of activities from kindergarten through fifth grade. From fractions to word problems, real life applications are used to show the important impact math has on our daily lives.
The Adventures of Echo the Bat
call no. NAS 1.19:2000-08-001-HQ
Combining a beautifully illustrated story with a set of activities for young children, this book seeks to teach kids about perspective, shape, pattern, color, and texture. It also teaches kids about the migrating adventures of bats throughout the United States.
Many of these educational kits and documents are freely available through the government. A library student worker in the Government Documents Department who is an education major frequently orders educational items to use in her classroom and highly recommends every future teacher to check out these items and order them for their classroom. You can order these free government kits and activitiy books at the Department of Education's EdPubs website.

The University Library is a federal depository with many federal, state, local, and international documents on a variety of current and relevant issues available to you in print, microfiche, CD-ROM, and electronically. Come check out your government at the University Library!