Dr. Anthony Gulig, Dept. of History, will talk about "American Indian Treaties of the Upper Great Lakes: How We Know What We Know" at 7:30 p.m. on Tues., Mar. 14, at the Fort Atkinson Club (211 S. Water St. E, Fort Atkinson). It's the first of the Club's 2017 Spring Lecture Series, which feature local experts.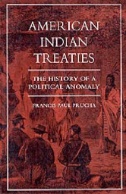 If you'd like to learn more, Andersen Library can help! Find books such as Faith in paper: The ethnohistory and litigation of upper Great Lakes Indian treaties (available to UWW students and staff from other UW campus libraries via free UW Request), American Indian treaties: The history of a political anomaly (3rd-floor Main Collection, KF8205 .P75 1994 or online via eBook Collection, EBSCOhost) Treaties and agreements of the Indian tribes of the Great Lakes Region (3rd-floor Main Collection, E78 .G73 U5x), or Documents of American Indian diplomacy: Treaties, agreements, and conventions, 1775-1979 (2nd-floor Reference Collection, KF8202 1999, or online via eBook Collection, EBSCOhost). The UW Digital Collections includes "Documents relating to Indian affairs," containing documents related to ratified and unratified treaties with various tribes from 1801-1869 and the Annual report of the Commissioner of Indian Affairs 1826-1932. There also are articles such as "The dynamics of American Indian diplomacy in the Great Lakes region" (American Indian Culture and Research Journal, 2003, vol.27:no.4, pp.53-77).
If you'd like assistance with finding additional resources, please ask a librarian (choose chat or email, phone 262-472-1032, or visit the Reference Desk).
Andersen Library is a federal and Wisconsin depository library with federal and state government documents on a variety of current and relevant issues available to you in various formats (print, DVD/CD-ROM, online). Check out your government at Andersen Library!