Dr. Jill Doerfler, Associate Professor of American Indian Studies at the University of Minnesota Duluth, will talk about "'How much Indian are you?' The Problem with Blood Quantum and Racialization of Native Peoples" from 3:30-4:30 p.m. on Tues., Mar. 7 in UC 275A. It's part of the Native Pride lecture Series.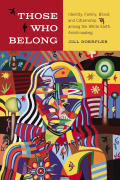 Her book Those who belong: Identity, family, blood, and citizenship among the White Earth Anishinaabeg is available online via Project MUSE. Other books that may be of interest include "Real" Indians and others: Mixed-blood urban Native peoples and indigenous nationhood (3rd-Floor Main Collection, E78.C2 L386 2004) and Blood politics: Race, culture, and identity in the Cherokee Nation of Oklahoma (online via ebrary).
The Bureau of Indian Affairs' web site offers guidance on tracing genealogy. Each tribe establishes requirements for enrollment, which may include blood quantum requirements (e.g., requirements of The Menominee Indian Tribe of Wisconsin). See, for more information, "Tribal Membership Requirements and the Demography of "Old" and "New" Native Americans," part of Changing numbers, changing needs: American Indian demography and public health.
If you'd like assistance with finding additional resources, please ask a librarian (choose chat or email, phone 262-472-1032, or visit the Reference Desk).
Andersen Library is a federal and Wisconsin depository library with federal and state government documents on a variety of current and relevant issues available to you in various formats (print, DVD/CD-ROM, online). Check out your government at Andersen Library!