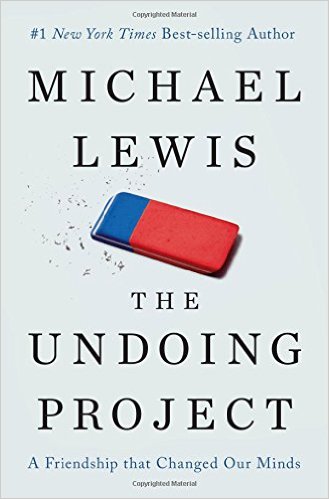 The Undoing Project
:A Friendship That Changed Our Mind
by Michael Lewis
QP360.5 .L49 2017
Browsing Books, 2nd floor
Michael Lewis' latest books looks at the fascinating relationship between Tversky and Kahneman. These two men single handedly founded a new discipline that we now call behavioral economics. This book is driven by the relationship of two psychologists who opened the gates on understanding why humans do the things they do and the effects are behaviors have on the world. The most compelling part of this story is perhaps just how different these two men were in terms of their personalities. What often began as a heated argument in their offices about how humans behave would eventually turn into a groundbreaking academic paper. By the time the paper was to be published, neither men had a good sense of who first proposed the idea so they began to just alternate their names as the lead author on the paper. What began as the work of two Israeli academics in the 1960s soon became it's own field and affected the way business, economics, and the stock market were approached by various companies.
Check out other books written by Michael Lewis at Andersen Library.