Born a Crime: Stories from a South African Childhood
by Trevor Noah
PN2287.N557 A3 2016
Browsing Books, 2nd floor
In this autobiography, Comedian Trevor Noah shares stories from his unusual childhood growing up in apartheid South Africa. The son of a black Xhosa mother and Swiss white father, his parents' relationship was illegal and his very existence a crime. He recognized early that his ability to code switch and speak multiple languages – Africaans, English, Xhosa, Zulu, and others – allowed him to move among and be accepted by people of cultures which generally did not mix. Much of his humor, cultural observations, and political satire stems from this perspective of an outsider observing – with not just a little irony – from the inside.
Listen as Trevor Noah shares some of the stories from his book in a recent interview with Freakanomics' Stephen Dubner:
And Now for a Research@UWW Hack
Did you know that not all new books to the library pass through the New Arrivals island? Items like Born a Crime which are part of the Browsing Books Collection  do not.
Here's how you can hack Research@UWW to browse the newer items in the Browsing Books collection: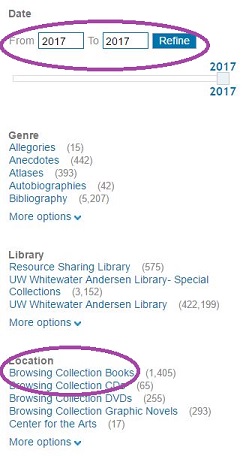 1. Type the word pages in the search box. (This works, as most catalog records for books include the number of pages in the item description, and currently that is included in the fields searched by Research@UWW.)
2. Limit the Date Range to 2017.
3. Under the Location, select Browsing Collection Books.
Other 2017 non-fiction and fiction titles you'll find if you try this yourself, are
As always, feel free to ask for assistance at the Reference Desk.