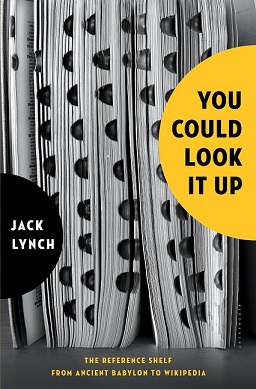 You Could Look It Up:
The Reference Shelf From Ancient Babylon to Wikipedia
by Jack Lynch
Z1035.1 .L96 2016
New Arrivals, 2nd floor
Have you ever wanted to know everything? Or at least wanted a single place to look up any information you ever wanted to know? That is one of the driving forces behind the creation of reference books (or reference databases, websites, or other ways to collect and share information).
Jack Lynch, a scholar of English literature during the Enlightenment, recounts the history of 50 of the world's greatest reference works. He analyzes the scholars, authors, and business people behind the attempts at collecting, displaying, and sharing large amounts of information. The works he covers range from law (The Code of Hammurabi), to language (Johnson's Dictionary of the English Language), to medicine (the DSM-5), to anything deemed important by the editors of Wikipedia.
This humorous and lively, yet deeply researched and scholarly, volume sheds light on some of the ways in which humans have attempted to collect and preserve information since the invention of writing.