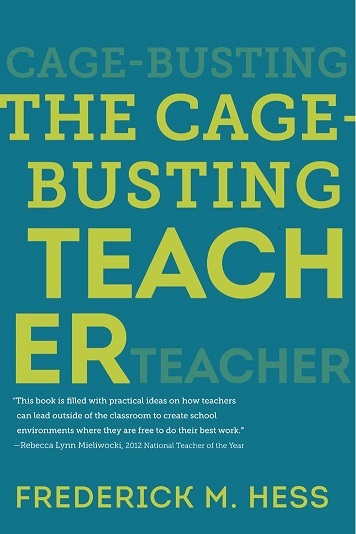 The Cage-Busting Teacher
by Frederick M Hess
LB1775 .H4532 2015
New Arrivals, 2nd floor
In Cage-Busting Leadership (2013), Rick Hess challenged principals and educational leaders to take on the laws, rules and regulations that obstruct meaningful educational change. In this newer title, he insists that teachers can do a lot more than they think they can do to create positive change in their schools and districts. He defines the cage as both the rules and regulations that have accumulated over decades, and the mindset that some teachers fall into – that they have no authority beyond their classroom, much less authority to influence changes to the system. He sets out to show how teacher leaders can recognize opportunities to break through barriers that get in the way of their best work.
This is a complement to other teacher leadership titles in the Andersen Library collection which focus on what happens inside the classroom.
Teaching as Leadership: The Highly Effective Teacher's Guide to Closing the Achievement Gap, by Steven Farr
Teach Like a Champion 2.0: 62 Techniques That Put Students on the Path to College  by Doug Lemov
Teach Like a Champion Field Guide: A Practical Resource to Make the 49 Techniques Your Own (e-book) by Doug Lemov
Building a Better Teacher: How Teaching Works (and How to Teach it to Everyone) by Elizabeth Green
Rick Hess is a member of the American Enterprise Institute and regularly offers commentary on education policy, politics, research and reform in his Straight Up blog in Education Week. Listen in as he briefly describes what cage-busting leadership entails:
[youtube]http://www.youtube.com/watch?v=eRrnrG7i5Ak[/youtube]
and listen in as he leads conversation about the impact of cage-busting teachers:
[youtube]http://www.youtube.com/watch?v=72Bs4t15TEs[/youtube]