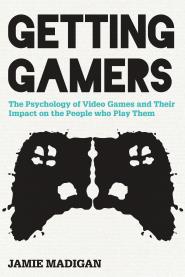 Getting Gamers:
The Psychology of Video Games and Their Impact on the People who Play Them
by Jamie Madigan
GV1469.34.P79 M33 2016
New Arrivals, 2nd floor
Do you like games and gaming? As you play and participate in games, you may want to reflect on the psychology of gaming. The author of Getting Gamers wants to help you understand the ways that game designers, publishers, and marketers use psychological principles to design and sell games. The book covers topics like in-game purchases, violence in games, and the art of fostering competition. As an avid gamer himself, Madigan wants players and consumers of games to understand these principles so that they can derive even more enjoyment out of participating in gaming culture.
Also remember that Andersen Library is celebrating International Games Day this Friday, November 11 starting at 4pm!